Parker Fluid Connector Group
GlobalCore Hydraulic Hose & Fitting System
Key Features
Global

Simple

High Performance

Reduces Inventory
Agency Approvals
Six Hoses
187 = 1000 PSI
387 = 3000 PSI

487 = 4000 PSI

722 = 4000 PSI

787 = 5000 PSI

797 = 6000 PSI

Two Fitting Series
Cover Options

Standard

ToughCover

SuperTough
Simple
The GlobalCore system is simple. With only six hoses, OEM and MRO customers alike will enjoy selecting the right hose based on working pressure.
High Performance

Because challenges can emerge anytime and anywhere, your solution should endure the tough conditions of your work environment. The high-performance standards designed, engineered and manufactured into GlobalCore provide the longest service life possible.
With GlobalCore hoses tested to twice the ISO 18752 standard, high performance in rugged environments and high-impulse applications is ensured. Long known as the premier manufacturer of hydraulic hoses, you can expect Parker's GlobalCore system will continue to meet our own rigorous standards of excellence.
Additional value is realized through:
212° / 257° F temperature ratings

Standard, ToughCover and SuperTough cover technologies for abrasion resistance

1/2 minimum bend radius

Low force to flex for ease of installation

Advanced inner tube chemistry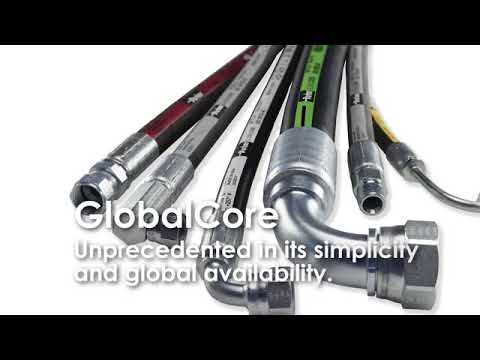 Catalogs
GlobalCore Quick Reference Guide
3.4 MB
GlobalCore (US) Brochure
6.5 MB